THE BEGINNER'S GUIDE TO ART COLLECTING | THE IGAL AHOUVI ART COLLECTION
Igal Ahouvi is the owner of one of the largest private art collections in Israel. The collection spans around 1,200 artworks in a wide variety of sizes and media, and includes works by both Israeli and international artists, promising artists alongside established ones, who've left their mark on the international art scene.
You can read more about the Igal Ahouvi art collection on the collection's website, here.
Ahouvi continues to enrich his art collection by focusing on key international artists such as Marlene Dumas, Georg Baselitz, Luc Tuymans, Barbara Kruger, Diane Arbus, Robert Mapplethorpe, Philippe Parreno and Olafur Eliasson. He frequently lends works to museum exhibitions in Israel and abroad and supports important shows at the Tel Aviv Museum of Art, where he is a member of the board of directors, and at the Center for Contemporary Art, Tel Aviv (CCA), among others.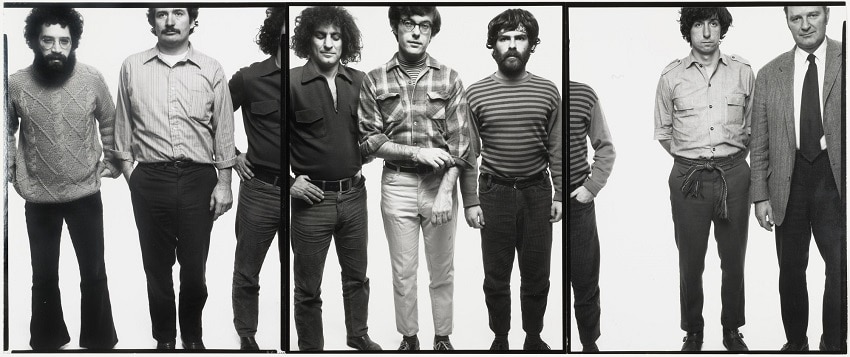 Richard Avedon,The Chicago Seven, 1969
Triptych, Flush-mounted to linen
25 x 60.3 cm, edition 13 of 50
Courtesy of the artist and Igal Ahouvi Art Collection
Igal Ahouvi has been supporting Freshpaint art fair since its inauguration. Between the years 2008-2013 he annually granted the Most Promising Artist Award to one of Freshpaint's Independent Greenhouse artists. The artist or artists were chosen by an external rotating committee for their artistic achievements, which demonstrated great potential for an intriguing future artistic career. They received a financial prize and a solo show at the following year's fair.
For a list of the Most Promising Artist Award recipients, press here.
Shira Zelwer, Reserved, 2009
Installation, Freshpaint 2
Courtesy of the artist and Igal Ahouvi Art Collection
Igal Ahouvi's tips for the beginning collector:
A good work of art continues to intrigue and touch you emotionally, lingering with you for a while after you've seen and experienced it.
Choose works that you like for your collection, but keep an open mind about works that you may have not liked initially, but stayed in your memory. It's very exciting to find out you had a change of heart about an artwork. And it happens.
Remember that tastes change over the years. Don't fret about it. On the contrary – keep investigating, exploring and relentlessly exposing yourself to new art.
Investing in art is not a matter of finding the right 'opportunities'. Purchasing art for profit is usually just an illusion, and it's not the right approach – Not to art, not to the art field, and not for you, either.
If you do intend to invest a large sum of money in art and do not want to see your money lose its value, make sure you thoroughly research the artist and their works, the way their prices have changed over the years and the evolution of their career.
To sum it all up, follow your brain, not only your heart. Taste cannot replace knowledge. Go see exhibitions, read magazines and art books, keep following your favourite artists on every available media and watch how their careers develop. Find someone who can explain things to you – Professionals, other collectors, the artists themselves. Like in any other field, masters of the trade have knowledge and experience you lack.
On your journey to your next purchase, enjoy the exploration, the learning, the accumulation of knowledge and beauty.